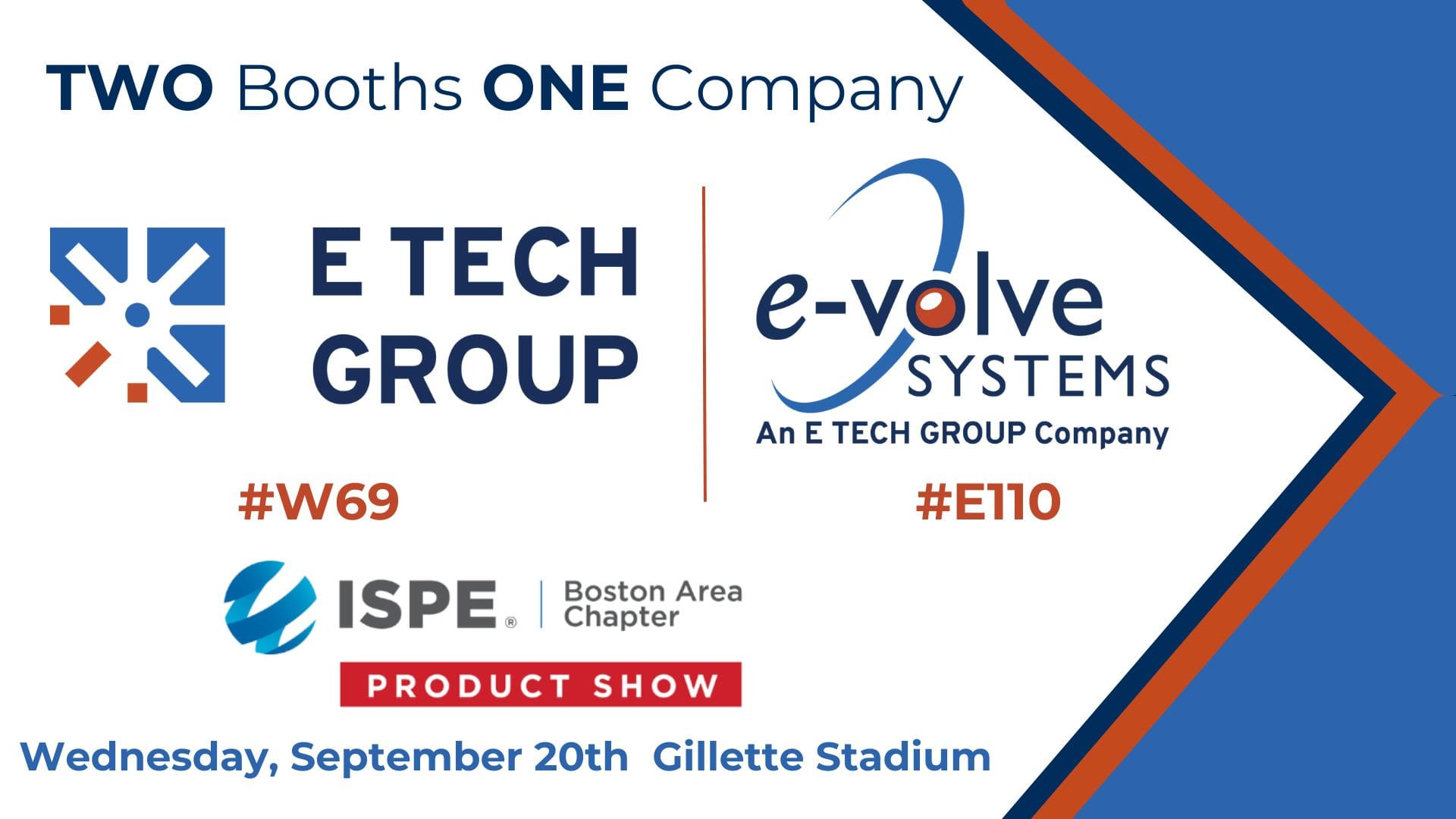 E Tech Group will attend the 32nd Annual International Society of Pharmaceutical Engineering (ISPE) Boston Area Chapter Product Show and Career Fair at Gillette Stadium in Foxborough, MA September 20, 2023, 11:00 am – 6:30 pm.
West Chester, OH – E Tech Group, a leader in providing high-quality automation, control, and engineering services for industrial clients, announced today that they will be displaying their oligonucleotide automation demonstration at the 2023 International Society of Pharmaceutical Engineering (ISPE) Product Show at Gillette Stadium in Foxborough, MA September 20, 2023.
E Tech group will be taking over the hall: you'll be able to find E Tech Group on both sides of the convention due to the recent acquisition of E-Volve Systems. You can find E Tech Group at booth W69 and formerly E-Volve Systems at booth E110.
The E Tech Group team will be providing information around our IT/OT risk assessments, a helpful tool in addressing and mitigating issues at facilities. On the other end of the hall, still bearing E-Volve Systems logos and banners, E-Volve Systems will showcase their capabilities for oligonucleotide automation, an industry facing many opportunities for automation, in a featured demo. Attendees can learn how E Tech Group can help a batch process that is currently manual and facing inconsistency issues become a more efficient and safer process.
"E-Volve Systems, an E Tech Group company, is excited to once again be showcasing our expertise at the ISPE Product Show. We look forward to highlighting our experience with automating what was once a manual process in oligonucleotide manufacturing, connecting with our peers, clients, and new faces. Joining E Tech Group earlier this year we have expanded our capabilities and reach becoming a major player in the industry across North America. This is an exciting time in our company and in the industry; we are eager to go share all that is happening with the ISPE attendees," said Vice President of Life Sciences Central Kevin Stout.
Among the booth attendees you'll be able to find long-time show veteran and Hank Moes Award Recipient, Rick Pierro, E Tech Group's Chief Strategy Officer for Life Sciences.
"We are excited to participate in the ISPE Product Show for our 24th consecutive year; we always look forward to the show," said Pierro. "After being in business for 30 years, now that we've transitioned from Superior Controls into E Tech Group, I'm excited to come to the show as E Tech Group to see old and new faces at our booth as we showcase a nationwide team with over 400 engineers behind us. My team and I proudly support ISPE and their mission to connect pharmaceutical knowledge."
To register to attend the ISPE Boston Area Chapter Product Show, look here. If you want to learn about career opportunities at E Tech Group, be sure to visit booth C12.