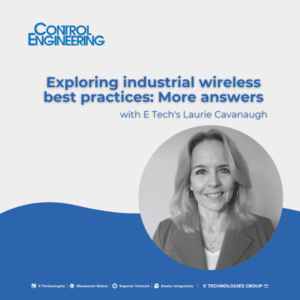 More industrial wireless best practices were provided by speakers from a Control Engineering webcast, "Exploring industrial wireless best practices." Laurie Cavanaugh of E Tech Group and Dean Fransen of Wood answered more industrial wireless audience questions that were submitted but not able to be answered in the one-hour July 8 webcast.
The Q&A below includes information on wireless sensors, wireless reliability and wireless technology selection. If you found yourself wanting more information on wireless industrial automation best practices after our webcast, you'll find more great discussion here:
Question: If wireless is the industrial communication choice, how do you help clients decide among technologies? What are criteria used? Range, speed, reliability, cybersecurity, cost, lifecycle?
Cavanaugh: The very first thing is to determine what problem you're trying to solve. And what is the perception that wireless will be the answer? Answer will definitely include these criteria: Range, speed/performance, reliability, cybersecurity, cost to implement, cost to support and maintain, compatibility with existing systems, lifecycle?
Fransen: Additional criteria to ask yourself, what am I using wireless for? Data collection? Streaming? Discrete data? Location/mobile? Time sensitivity/latency. The answers to these questions will help provide some answers to
Question: When retrofitting industrial communications now, is it more often from wired to wireless or older wireless to newer wireless?
Cavanaugh: From what I see, there is not so much a replacement as there is an augmentation or adaptation. If new equipment comes in with wireless sensors, but also a wired controller, there will be an opportunity for creating a hybrid wireless and wired communication and information sharing network. Fortunately, the ability to use an existing Wi-Fi network, add an Edge Industrial Internet of Things (IIoT) device to collect wireless sensor data, wire in the new controller to an existing control network, and add a switch into the new panel to connect to the network allows for that evolution into the adaptation into a hybrid wireless architecture. It's an evolution, not a revolution.
Question: Does a customer ever start with one wireless technology in mind, then change because application requirements better fit a different industrial wireless technology?
Cavanaugh: This is absolutely a real possibility, and for that reason, we start with a pilot project to prove what is unknown and can't be determined during a design phase. Design only gets you so far. And everyone may think they're solving the root cause problem at first, but the pilot project should flush out the real root cause.
Question: Thanks for lessons learned in your use case industrial wireless examples. What do you advise clients differently now about industrial wireless, compared to a couple years ago?
Cavanaugh: It is critical to evaluate wireless within the organization to determine whether (a) wireless has or will be part of a long-term information exchange direction for the overall organization or (b) is more of an opportunistic and case-based solution consideration. If it is (a) then I'd propose a Corporate Wireless Strategy needs to be developed and maintained as part of the overall information technology/operational technology (IT/OT) Strategy; if it is (b) then having an identified "Task Force" as part of the IT/OT group would be sufficient to plug into the discussion on how/where wireless would be used as part of a specific project initiative.
Question: How do you recommend we advance our industrial wireless maturity level?
Cavanaugh: Understand your organization's "real" maturity level- by that I mean take some of the learnings here to do a little more self-education so that you can ask deeper questions within your organization and identify where wireless may already be in use. There is no such thing as a "dumb question" but knowing what "smart questions" to ask will help you more quickly determine where there may be opportunities to advance the organization forward using wireless solutions. Depending on what you learn, you may reevaluate where you are on the maturity spectrum. Once you've assessed your current state, and also learned more about what is possible and how that might help the organization operationally and financially, you'll be in a better position to propose your own use cases internally and determine if there is traction there to evolve.
Question: Please give some wireless system integration advice.
Cavanaugh: Define the problem you're trying to solve with a tech solution. Truly ask if wireless is the answer, and how each either will or won't play a role. Get studied up on what the options are. Be realistic about the in-house expertise to design and implement a solution. Before you do too much work, pitch the idea to an executive stakeholder. Create a diverse team, design a selection process, and work your plan. Throughout the process, be willing to pivot. Be open minded to consider alternatives. And invite IT to the table!
Still have questions? We've got even more answers: view the extended version of this article in Control Engineering.