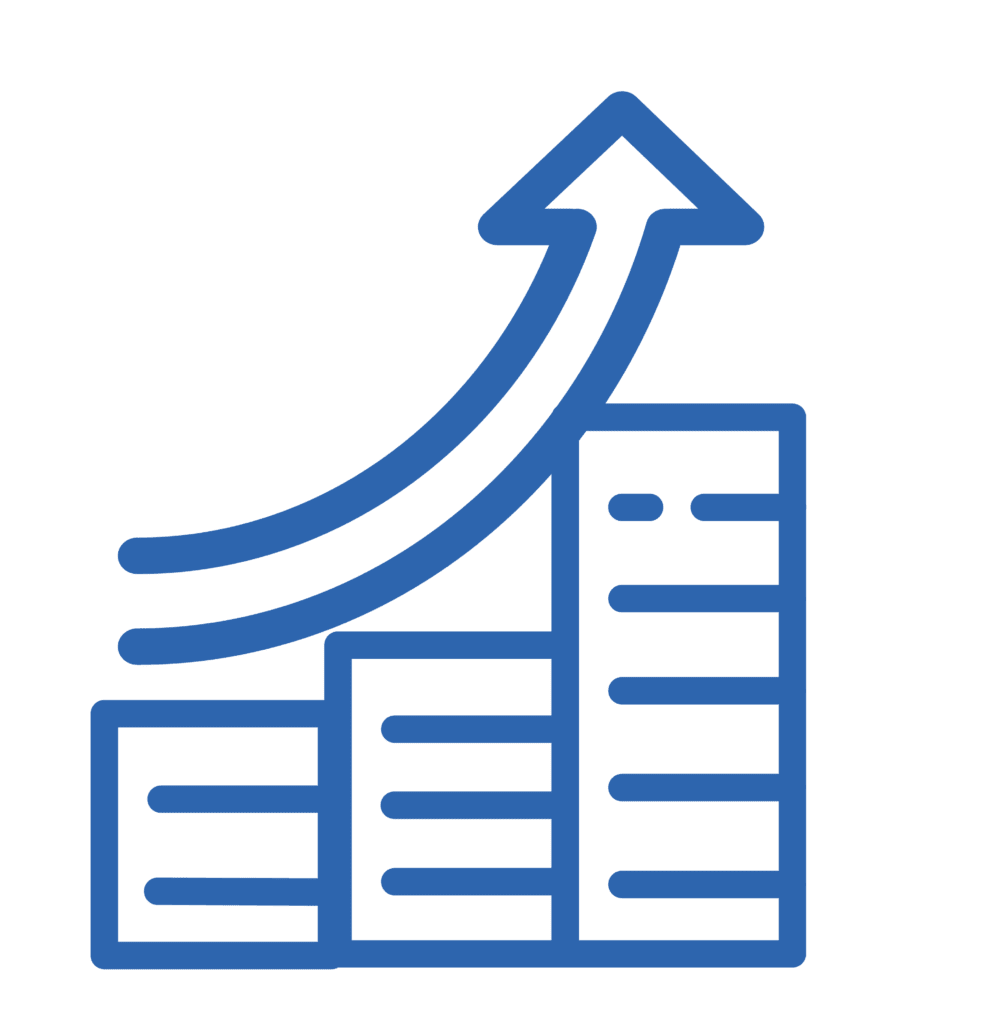 Building a PlantPAx 5.0 System for a Pilot Cultivated Meat Plant
A cultivated meat production facility needed to scale up from lab production so they could refine their process of growing cells at bench-top scale to a pilot scale. E Tech Group helped them to replicate their lab-driven results in an increased-volume setting, setting them up for large-scale production and distribution.
The Project: Innovate a Facility-Wide Control System for a Pilot Alternative Protein Plant
Alternative proteins, including lab-grown meats, are the new horizon of ethical, sustainable meat production. Specifically, cultivated meats are just emerging, with the first expected to be available within a few years. Cultivated meat production plants are a new frontier as far as food and beverage automation goes.
A client leading the way in this vein of alternative protein was scaling up from lab production, where they were able to refine their process of growing cells at benchtop scale to a pilot scale. Proving it was possible to replicate their lab driven results in an increased volume setting, if successful, would help move into large-scale production and distribution once necessary approvals came through.
Previously having worked with E Tech Group as an automation partner that helped guide and coach them through thoughtfully identifying their needs for their first automation project, they were confident in our ability to help plan, design, implement, test and support an end-to-end, turnkey automation solution for this new facility.
The Challenges: A New Type of Food Production Requires New Automation Tech
Because this was a new installation of cutting-edge technology, there was no lack of presented challenges on this project. We were all in uncharted waters.
Understanding that nothing in this industry had yet been designed and executed on this scale, the entire process would remain fluid. Change and adaptation would be a constant theme throughout the planning and implementation.
Knowing what was being produced was designed for human consumption, ensuring the developed solution exceeded industry and federal guidelines and standards was non-negotiable. E Tech Group needed to ensure this facility's automation system took all of the unknown out of the cultivated meat production process.
The Solution: Utilize Rockwell's PlantPAx 5.0 to Support the Automated Systems
The design of this project needed to be just as creative as the client's endeavors in this new field of meat production. Communication and flexibility was key in pulling off this leading-edge, facility-wide automation system integration.
Process Design
The plant being a pilot and the organization essentially a start-up, the process engineering environment was naturally ever-evolving and dynamic. The E Tech Group team kept up with the constant changing strategies, provided technical guidance in streamlining the design to a point where it could be automated, and clearly communicated changes to the process design as they went live. This helped maintain open lines of communication with stake holders and create realistic expectations for delivery.
Process Outline
Media Prep – Media Transfer, CIP of the Media Prep suite, SIP of the Media Prep Suite 
Clean In Place (CIP) – CIP of the Bioreactors and the transfer lines 
Steam in Place (SIP) – SIP of the Bioreactors and the transfer lines 
Inoculation 
Media Filtration 
Cell Growth 
Seeding/Circulation 
As part of the design effort, Pin Charts were developed and maintained. These defined the valve alignment and various schemes for Equipment Modules corresponding to each phase step, covering a matrix of over 100 phase steps and over 300 devices, over 200 valves, and a gamut of control modules.
The team also worked to design customized control loops (involving Cascade methodology) for pH, Dissolved Oxygen (DO) and Temperature Control (both Vessel and Jacket) of the Bioreactors. These complex algorithms use shared equipment and phase-specific control strategies.  
The process design also involved deciphering functionality of specialized equipment such as Mix Proof Valves – the Equipment Module developed for this valve comprises of 9 schemes in its operation. 
Electrical Design
Panel Layout 
Network Layout 
Automation Products
Our process automation team had a daunting task at hand – to synthesize the enormous design and get the system ready for production in less than 6 months. The automation effort included the following tasks: 
PLC Program Design: Rockwell Automation PlantPAx 5.0, ControlLogix L85 EP, Studio 5000 v33 

Mix of 4.x and embedded 5.0 process objects
Function Block and Ladder Logic used to program Control and Equipment Modules  
Structured Text programming for Phases 

Phase Parameter definitions 
Hold, Abort and Stop Logic 
Operator Prompts and Reporting Logic 
Linking/Messaging with Parallel Phases 

Equipment Module Programming 

Scheme Propagation 
State Model 
Permissive 
Interlocks 
Valve Supervisor Equipment Modules 
Online Configuration Tool – development and maintenance for bulk import of IO 

Handshaking with External Skids (Sanimatic CIP, Alfa Laval Centrifuge) 

Message Instruction programming 
Produce, Consume Tags 

Batch Programming: FactoryTalk Batch 

Area Model Configuration – S88 standardized
Recipe development – Unit Operations and Unit Procedures 
DCS Design & Implementation
A new DCS System was implemented in a virtualized environment using the FactoryTalk View SE, PlantPAx system. The system is scalable and sustainable, as the infrastructure supports future growth for the pilot plant. The HMS, Historian and Win-911 systems were integrated and deployed.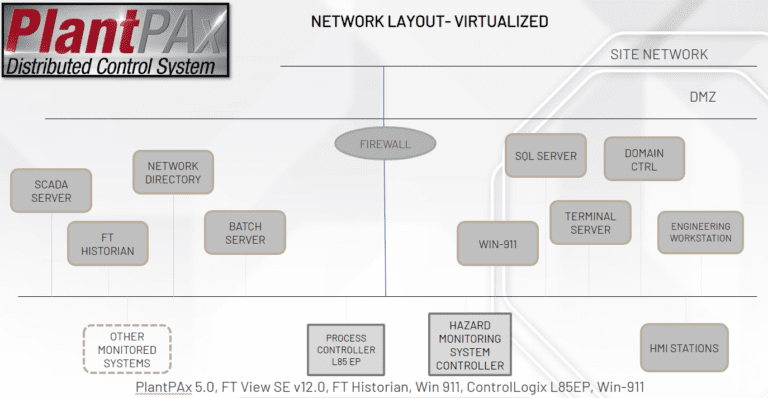 Components
SCADA Server: hosts the HMI server, Data server, Alarm and Event server 
ThinManager and Terminal Server: host thin client sessions for HMI operations on the plant floor 
Batch Server: ISA -88 standard Batch engine for Recipe development 
Network Directory Server 
SQL Server 
Win-911: Remote alarm notification to pre-configured user groups via FactoryTalk Alarm and Events 
FactoryTalk Historian SE Server 
Engineering Workstation – hosts the Rockwell Development suite 
Features
Graphics are developed based on the ISA 101 standard. 
Alarms are based on ISA 18.2 standard. 
Node security implemented 
Scope for external Skid Integration 
Custom graphics developed for external skid integration 
Sanimatic CIP Skid  
Centrifuge  
Onsite Support & Equipment Testing
In addition to the unparalleled in-house development effort, E Tech Group has provided over 600 hours of hands-on onsite support to the client – starting from instrument checks to Recipe Testing. From beginning to end, our team kept up with dynamic changes happening during the Wet Runs, adjusting the design accordingly and re-integrating the changes into the active system.
E Tech Group's ability to adapt, adjust, and overcome was critical in the final testing and rollout of this solution. Vital processes we monitored, tested and facilitated included:  
Loop Checks 
Loop Tuning 
Equipment Module Testing 
Phase Testing
Recipe Testing 
Troubleshooting 
Operator Training 
Documentation
Documentation is key in an effective facility-wide automation system, as it allows the users to analyze and identify everything that happens within the system. This has implications for standards, quality control and troubleshooting.
E Tech Group developed the Functional Design Specifications for the entire process – starting from ground zero and then updating all the specs based on the As Built system. Throughout the entirety of the project, our team consolidated information from various vendors – Standalone Skids, construction management and piping and instrumentation vendors – trying our very best to not let any details slip through the cracks.
We also helped develop SOPs to meet the client's production and compliance requirements. This gives the owner the ability to better support their own system, since it is well-documented. They can find information easily and without having to bring in a control system expert. This reduces downtime, which is inevitable in a development process for cutting-edge products like cultivated meat.
The Results: A Positive Learning Experience for All Involved
After a successful completion of this EPIC project, E Tech Group is fueled with stronger skillsets and hungry for more. We are proud to be part of this journey with the client and extremely thankful to them for trusting and partnering with us in designing and creating the automation solution.
E Tech Group is a Rockwell Automation partner, supporting manufacturers across industries with a unique brand of innovative, adaptable, robust control systems. We design and implement building-wide automation systems that are secure, user-friendly, and sustainable long-term, so you can focus on maximizing quality, capacity and the ability to scale.